NCAA INDIANAPOLIS---The University of Alabama, Tuscaloosa, football program is prohibited from participating in a bowl game for the next two years, primarily as the result of recruiting inducements by three representatives of the university's athletics interests that included payments of large sums of cash to a prospective student-athlete and his family and to another prospect's high school football coach.
Among other penalties, the university is required to show-cause to the Division I Committee on Infractions why further penalties are not warranted if the three representatives are not disassociated from Alabama permanently. The institution also was placed on probation for five years and will be subject to initial and overall grant-in-aid reductions in the football program beyond those proposed by the university.

The committee said it considered prohibiting outside competition in football at Alabama for a period of time because the university is a two-time repeat offender (1995, 1999) and because of the severe recruiting violations, but ultimately decided it was not an appropriate penalty. The committee said that in the one previous case in which the "death penalty" was imposed, there was a blatant disregard for NCAA rules throughout the university. That was not the case at Alabama, where university officials cooperated fully in the investigation of allegations.

"Although the committee ultimately declined to impose a prohibition on outside competition, the committee emphasizes that this was a very close question greatly influenced by the particular circumstances of this case and of the university's infractions history," the committee said in its public report released today.

The Committee on Infractions said that "all three athletics representatives at the heart of this case displayed contempt for ethical standards and behavior and for the positive values of fair dealing and good sportsmanship that underlie collegiate athletics competition."

The committee also stated that "While rogue athletics representatives are new neither to infractions cases generally nor to the infractions history of the university, their level of involvement and spending is an increasingly visible and major problem in intercollegiate athletics. Such rogue athletics representatives demonstrate a profound and worrisome immaturity in the satisfaction they derive from close and continued intermingling with college and even high-school age student-athletes. Even if sincere, their claimed motivation for cheating - helping a university to recruit blue-chip athletes - betrays a lack of integrity and a 'win-at-all-costs' attitude that undermines and cheapens athletics competition and corrupts the ethics and maturation process of the young people they claim to be 'helping.'"

At least two former Alabama assistant football coaches had frequent contacts with one of the athletics representatives. One of those coaches received two loans totaling $56,600 from one representative, in violation of legislation related to employment and salary controls. The loans, both extended in 1998, were not repaid until 2001, after alleged violations in the case became known. At least two of the three representatives were known to university staff, coaches and fans and were frequently seen at team hotels on road games.

The violations in the case involved recruiting bylaws and provision of extra benefits to enrolled student-athletes. One of the primary incidents was the provision of $20,000 in cash, lodging and entertainment to a prospective student-athlete and his parents by two representatives. The first installment of $10,000 was provided to the prospect at his home in the fall of 1995. It came in the form of $100 bills inside a grocery bag. The second installment was provided to the prospect's father in January 1996 when he received a brown envelope containing $10,000 in cash, also in $100 bills. One of the athletics representatives delivered the cash on both occasions. The prospect later signed a National Letter of Intent to attend Alabama but failed to meet academic standards required to be eligible to compete in his freshman season.

A second finding involved the offer and provision of a substantial amount of cash to a high school coach to assure that a high school prospect from Memphis, Tennessee, signed a National Letter of Intent in February 2000 and enrolled at the university. The high school coach and one of his assistants had developed a scheme to market the prospective student-athlete to university football programs for $100,000 cash and a sport utility vehicle for each.

The high school coach subsequently solicited payments from NCAA member institutions interested in recruiting the young man. Coaches from five institutions confirmed the solicitations by the high school coach.

Included in information cited by the committee in its finding of recruiting inducements to a high school coach was information reported by a witness, who, when interviewed by the NCAA said that the athletics representative said he "bought" the prospect.

The scheme unraveled, however, because the assistant coach said he did not receive any of the benefits promised to him or to the prospect's mother, and he came forward with information. He provided the NCAA with information about the sequence of events that resulted with the head coach receiving cash from the Alabama representative, including numerous telephone conversations between an assistant coach at Alabama and the athletics representative during the time the young man was recruited. This information is outlined in the committee's full public report.

Another violation occurred during the summer of 1999, when an athletics representative provided a student-athlete with the use of an automobile. The student-athlete used the vehicle cost-free from June until August when it was repossessed after he had announced he would transfer from Alabama to another university.

The committee also outlined other findings that involved one assistant coach who accepted loans from one of the athletics representatives. Those included violation of honesty standards, violation of employment and salary controls, and failure to cooperate. The NCAA's enforcement staff had alleged the coach was in violation of ethical conduct legislation because he provided misleading information about the loans.

During a November 2000 interview, the assistant coach was questioned about an allegation in which he was said to have received $200,000 from an athletics representative as incentive to join the Alabama football staff. At that time, the coach denied having received any money from the athletics representative. He contended his denial was a direct response to the allegation about the $200,000, and that he had not been asked a specific question about loans.

The Committee on Infractions said there was not sufficient evidence to support a finding of unethical conduct.

Several other findings of violations, including several secondary violations, are discussed in the public report.

In determining its penalties in the case, the committee considered these self-imposed corrections and penalties by the university:

Disassociated one athletics representative for 10 years, a second for five years, and a third for seven years.

Reduced initial grants-in-aid in football by eight, to 17, in 2002-03; by four, to 21, in 2003-04; and by three, to 22, in 2004-05.

Reduced the number of official paid visits in football by 22 in 2001-02, by 12 in 2002-03, and by 10 in 2003-04.

Reduce the number of football coaches who can recruit off-campus at any one time from seven to six from December 1, 2001, through December 1, 2002.

Modified its outside income reporting procedures for coaches and staff.

Revised the letter sent to each prospective student-athlete who has signed a National Letter of Intent in football to include information regarding the rules associated with residing in Tuscaloosa during the summer before full-time enrollment.

Modified its compliance systems in the areas of unofficial and official visits, specifically regarding meals on unofficial and official visits and mileage reimbursement on official visits.

Ceased to recruit prospects from eight Memphis high schools from December 1, 2000, through December 1, 2001.

Modified the process for receiving all academic transcripts for incoming scholarship student-athletes during the recruiting process.

Developed a presentation regarding NCAA rules that the faculty athletics representative and associate athletics director of compliance provide to all new university board of trustees members.

Brought the management of football camps and coaches' clinics under the auspices of the athletics department.

Updated the "Guide to NCAA Rules for Alumni, Faculty and Friends" brochure and mailed a copy to all season ticket holders in all sports. The associate director for compliance will speak regularly at various alumni and booster group gatherings to reiterate the importance of rules compliance by all individuals associated with the athletics department.

The committee accepted the university's actions and penalties but imposed additional penalties that are directly related to the violations in the case as well as other penalties tailored to the nature and scope of the violations that were committed. As previously noted, the committee considered prohibition of outside competition in football, but determined that university officials fully cooperated with the enforcement staff to develop complete information about the case.

"University officials cooperated fully with the enforcement staff, often at great personal criticism, in a diligent effort to develop complete information regarding the findings. Had this candor and cooperation been lacking, the death penalty (as well as substantial penalties in addition to those imposed in this case) would have been imposed," the committee stated in its report.

The additional penalties are:

Public reprimand and censure.

Five years of probation from February 1, 2002. This period coincides with the length of time in which the university is subject to the repeat violator rule.

The institution's football team will end its 2002 and 2003 seasons when it plays its last regularly scheduled, in-season contest and will not be eligible to participate in any bowl game or take advantage of the exemption provided in Bylaw 17.10.5.3 for preseason competition.

The university will reduce the permissible limit of 25 initial grants in the sport of football to 17 in 2002-03; to 18 in 2003-04; and to 19 in 2004-05. The university had proposed a limit of 17 initial grants in football in 2002-03, 21 in 2003-04, and 22 in 2004-05. Further, the university will reduce the total number of football counters available from 85 to 80 during each of those years.

For the period of the probation, the university will prohibit all noninstitutional athletics representatives from the following: traveling on football team charters; attending football team practices normally closed to the public; and participating in any fashion with the university's football camps to include the donation of funds to the camps.

The university will show cause why it should not be penalized further if it fails to permanently disassociate from its athletics programs, the three athletics representatives, based upon their involvement in NCAA legislation. Further, the institution will disassociate a fourth athletics representative for at least a three-year period based upon his involvement in violations of NCAA legislation. All disassociations include the following provisions: refrain from accepting any assistance from the individuals that would aid in recruiting prospective student-athletes or support enrolled student-athletes; refuse financial contributions to the athletics program from the individuals; ensure that no athletics benefit or privilege is provided to the individuals that is not available to the public; and implement other necessary actions to eliminate the involvement of the individuals in the athletics program.

The committee considered imposing a show-cause order against one of the former Alabama assistant coaches but decided not to do so because he was terminated by the university at the conclusion of the 2000 season and since that time has been out of college coaching, under what the committee considered to be a de facto show-cause order.

During the probationary period, the university will continue to develop and implement a comprehensive education program on NCAA legislation and submit periodic reports to the NCAA. At the end of the probationary period, the university's president will provide a letter to the committee affirming that the university's current athletics policies and practices conform to all requirements of NCAA regulations.

As required by NCAA legislation for any institution involved in a major infractions case, Alabama is subject to the NCAA's repeat-violator provisions for a five-year period beginning on the effective date of the penalties in this case, February 1, 2002.

The committee also noted that it has the prerogative to reexamine the case if new information becomes available as the result of judicial proceedings that occur within a reasonable timeframe following the conclusion of the case.

The members of the Division I Committee on Infractions who heard this case are: Thomas Yeager, committee chair and commissioner, Colonial Athletic Association; Paul Dee, athletics director, University of Miami (Florida); Andrea Myers, athletics director, Indiana State University; James Park Jr., attorney and retired judge, Frost Brown Todd, Lexington, Kentucky; and Josephine Potuto, professor of law, University of Nebraska, Lincoln.

A copy of the complete report from the Division I Committee on Infractions will be available at 2 p.m. Eastern time on NCAA Online at www.ncaa.org.



The question remains... was it worth it, Alabama?
Sunday, Feb. 3, 2002
GREGG ELLIS

The question remains... was it worth it, Alabama?

TAINTEDLOOSA, Ala. - It's a darn good thing ol' Roy got his little boys into a bowl this year, because Alacheatabama ain't going bowling anywhere for the next two years, and maybe more.

Nope. Not even the masterminded Roy Kramer, perched high above from his plush Southeastern Conference office headquarters, could save the mighty PayRoll Tide from the NCAA's Big Brother.

But Alabama fans shouldn't feel too bad. After all, they got away with one back in the 1990s, but the second time around the hammer fell harder than an Enron executive.

If anything, the capsized Tide faithful should feel relieved. Believe it or not, it certainly could have been worse.

"They were absolutely staring down the barrel of a gun," said Thomas Yeager, chairman of the infractions committee.

Fortunately for Alabama, it didn't go off. But the damage has been done.

By now, football followers of all denominations know the severity of the penalties. No bowls for two years. Probation for five years and a loss of 21 scholarships over the next three years.

Remember, Alabama. If you're going to pay elephant-size proportions to high school coaches for gifted athletes, be prepared to pay a Mean(s) price.

No. It certainly wasn't the death penalty. But it wasn't a little slap on the wrist, either.

Yes. The Alabama tradition has taken a major blow faster than Logan Young can write a check.

But now begs the inevitable question: What is the "Alabama" tradition?

Could it be the glory years are nothing more than bought SEC titles and national championships? And furthermore, when exactly did the cheating start?

There are still a plethora of questions to be answered, some that in all likelihood never will be revealed. But what we do know is that Alabama is now damaged goods and about as appealing as a vacation to Pakistan.

That in itself will make recruiting an uphill battle. Heck, if the bought ones didn't stay around, how tough is it going to be to offer a scholarship with no purse strings attached.

There is good news, though, for President Andrew Sorensen. He can now seek help through CA, short for Cheaters Anonymous. This very visible program has a 12-step program, too. It's called the SEC.

For those with a short memory, Alabama is not the only school that enjoys defying rules. Nearly all 12 teams in the league know a thing or two about violations.

Therein lies another question: If coaches and athletic directors are demanded to have institutional control, then why isn't the commissioner of the most powerful and punished conference held accountable.

Under Kramer's direction, league foes have made Bill Clinton and Gary Condit look innocent. Twice this past week the SEC was nailed, starting with Kentucky. But since Kramer won't have to worry about getting Alabama in a bowl the next two years, maybe he can find more time to instruct his 12 schools about proper recruiting procedures.

It can only help.

As for Sorensen? He shouldn't waste the school's precious money on an appeal process. Instead, he should use that cash flow to restore dignity. Or better yet, to develop dignity.

And finally, one more question remains: Was it worth it, Alabama?


Gregg Ellis is a sportswriter for the Daily Journal. E-mail him at gregg.ellis@djournal.com.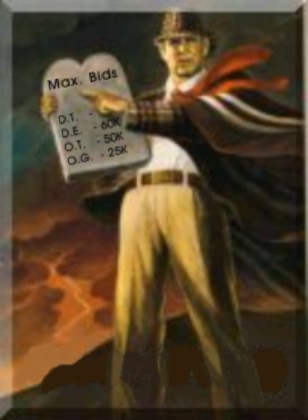 Where The Sun ALWAYS Shines Night and Day !!
To Hear The Song "Recruiting in Memphis" Click Here.. The Song of Bammer Recruiting
NCAA Suggests New Logo
and Mascot For SpUAt
Scandal Plagued Univ. of Al. in Tuscaloosa
(see below)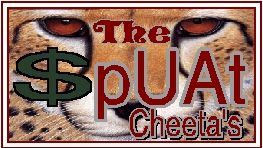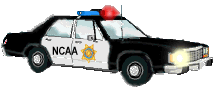 "They were absolutely staring down the barrel of a gun,""These violations are some of the worst, most serious that have ever occurred," said Thomas Yeager, chairman of the infractions committee.

If Alabama is found guilty of further violations during the probationary period, Yeager suggested the death penalty -- the elimination of a sports program -- could result.

"God forbid, there's ever another appearance -- ever," Yeager said. "Should there be one -- particularly within the five-year period -- I don't know what's left."






A summary of the penalties imposed on the University of Alabama football program Friday for major NCAA rules violations:

Five years on probation.

Barred from going to a bowl or playing in the Southeastern Conference championship game for two years, which league officials said could cost the university at least $3 million in bowl revenues.

Ordered to reduce football scholarships by 21 over the next three years. Also must also reduce the total number of football players on scholarship from 85 to 80 during each of those years.

Must ban boosters from traveling on team charters, attending closed practices and attending or donating money to football camps.

Must face additional penalties if it does not permanently ban three boosters from having anything to do with the athletic program. Also must disassociate a fourth booster for at least three years.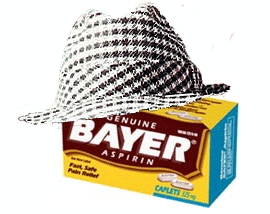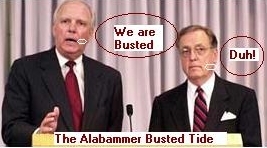 New Daniel Moore Prints
Limited Quantities! Act Now To Avoid The Rush!

The University of Alabama, in conjunction with the Arts Council of
Northern Alabama, is proud to announce the commissioning of three brand
new Daniel Moore paintings for the express purpose of fundraising for
the Alabama Athletic Program Legal Defense Fund and Appeal Network. Mr.
Moore's three new original works will be auctioned off to the highest
bidder and high quality lithograph prints will be sold to the first
15,000 donors. The artist will number each print to ensure the
exclusivity of this special product. These attractive Daniel Moore
prints will be a family heirloom and an attractive part of any room or
office decor for years to come.

Mr. Moore has agreed to capture the tradition, grandeur and triumph of
the Crimson Tide program in the following new prints:

1) "Rammer Jammer NCAA Hammer"

Nothing captures the spirit of the moment for Tide fans quite like a
Daniel Moore print. In this exclusive edition, Moore creates a special
vignette montage of recent indiscretions such as Albert Means signing
his letter of intent, Ronny Cottrell signing his mortgage agreement,
Logan Young signing a check to Kenny Smith's parents, and Mal Moore
signing his soul away to the devil, all gloriously set around the larger
image of all 46 National Championship Trophies won by the Crimson Tide
football team in recent years.

2) "Tide Officials Escort Logan Young Off the Team Charter"

Daniel Moore has been synonymous with capturing emotional moments in
Tide football history, from the Sugar Bowl goal line stand to the
infamous George Teague fumble. See how Moore recreates that harrowing
scene when megabooster Logan Young is denied access to all Crimson Tide
functions.

3) "Coach Fran Ponders His Next Career Move"

Nothing else could capture the anguish, the indecision, the spellbinding
heartbreak of Coach Franchione's tattered remnant of a career quite like
a Daniel Moore print. This moment-in-time painting of Coach Fran sitting
in his den, face in hands, is one for the ages.

All proceeds from auction will go directly to help fund Alabama's noble
appeals process. All bids for original art begins at $3,000,000 per
piece. SORRY NCAA OFFICIALS...YOU'RE NOT ELIGIBLE TO BID.

Numbered prints will be made available to members of the Red Elephant
Club on a first-come, first served basis. NOTICE: If you, or any of your
family, business associates or golfing partners have recently received a
certified letter from the NCAA containing the word "disassociate", you
are no longer eligible to bid or purchase a Daniel Moore print.

Thank you, and LITIGATE TIDE!

Midnight in Tuscaloosa
--------------------------------------------------------------------------------
Midnight in Tuscaloosa, alabama stagecoach , lonely road
I was on my way to Shreveport for a big Pre New Years Bowl
I stopped for just a minute to see a friend outside of town
Put my collar up, found his name, and felt the wind die down

Then a drunken man in a houndstooth hat took me by surprise
Held a rolled paper a tweed suit and haunting haunted eyes
He said 'Friend it's good to see you, it's nice to know you care'
I see that the NCAA has given us another scare
Then the wind picked up and he was gone
Was he ever really there

Cause it's midnight in Tuscaloosa
Just hear that Marie wail
See the ncaa light up the crimson sky
Feel that lonesome chill
When the wind it's right, you'll hear his mumbles
Smell whiskey in the air
Midnight in Tuscaloosa
He's always playing there

I climbed back on my stagecoach, took one last look around
Through red tail lights a shadow moved slow across the ground
Off somewhere a paid recruit is slowly forming an alibi
I could hear those denny chimes moaning
Were so busted I could cry

Cause it's midnight in Tuscaloosa
Just hear that Mari Wail
See the ncaa light up the crimson sky
Feel that lonesome chill
When the wind it's right, you'll hear his mumbles
Smell whiskey in the air
Midnight in Tuscaloosa
He's always playing there
He's always playing there
Bears always playing there
Still-oblivious Alabama lucky it wasn't much worse
Feb. 1, 2002
By Dennis Dodd
SportsLine.com Senior Writer

NCAA Division I-A football schools on probation
The University of Bear Bryant's football program hung by a thread Friday.

It came within an executioner's chop of getting the NCAA's Big Haircut -- the death penalty. You hear that, sweet home Alabama? You were that close to No Crimson Tide Football.


Dennis Franchione celebrates Alabama's victory in the Independence Bowl, the Tide's last for two years. (Allsport)

But before the NCAA's media teleconference was over came word that Alabama is appealing a series of staggering penalties leveled against the program on Friday. It is appealing perhaps the worst college football probation since the NCAA issued the first, and so far only, death penalty against SMU 14 years ago.

No bowls for the next two years. The cutting of 21 scholarships over the next three -- essentially the loss of an entire recruiting class. Five years' probation. If Alabama didn't get the death penalty, by the end of the probation, it will wish it had.

Rarely since SMU has the NCAA gone this far. The Pac-10 slapped Washington with a two-year bowl ban in 1993-94. It was later adopted by the NCAA as part of its penalties against the school.

The last school to get a multiple-year postseason ban imposed exclusively by the NCAA was Oklahoma State in 1989. Since then, the Cowboys have had one winning season in the past 13.

No wonder the Bear's Great Machine didn't even take time to exhale before announcing it would fight the penalties that left the Crimson Tide on the brink of extinction.

"It is simply unacceptable," Alabama athletic director Mal Moore said.

Funny, but those were basically the same words NCAA infractions committee chairman Tom Yeager uttered when he saw Alabama before the committee for third time in six years and the second time in three.

Alabama's habitual and widespread breaking of the rules had become too much to, well, bear.

"Unprecedented disgrace," Yeager said.

"God forbid they ever have another appearance," before the committee, "ever.

"They were absolutely staring down the barrel of the gun."

Those are not the words of a man heading a group that didn't do its homework. The infractions committee was clearly disgusted, if not incensed, that they were seeing Alabama again. 'Bama didn't feel it deserved the punishment.

One clue as to who is going to win this standoff: it isn't Alabama. The appeals committee might reduce the penalties, it might not. Meanwhile, recruits will be asked to sign letters of intent on Wednesday not knowing the final verdict.

Either way, there is not a good near or long-term future for the program. The verdict explains why, as one Kansas City Star report stated in December, that 'Bama coach Dennis Franchione had more than a passing interest in the Kansas opening.

Coach Fran goes into the second-year of a seven-year deal paying $1.1 million per season perhaps wondering if it is going to be worth it.

There is nothing worse for an NCAA scofflaw than having nothing to play for. That's what hurts most at Alabama. Because of the postseason ban, Alabama will not be able to play in the SEC title game. It will not get its share of the SEC bowl money.

The NCAA clearly has tried to make Alabama a pariah.

At a time when the school should have considered itself lucky and showed at least some contrition, it spewed venom. At a time when you thought that maybe, finally, the message had been delivered, 'Bama refused to sign for the package.

"This will not be resolved until we have a vigorous appeal to the appeals committee," Moore said.

Not even a, "Gee, we're sorry." More like a "Let's go for it on fourth down."

Alabama still doesn't get it. Call it the time-worn Tuscaloosa two-step. Football rules all. The Hope (of a national championship) Diamond cannot be damaged. The currency of the realm must be preserved at all costs.

If that includes storming the NCAA castle, bring on the attorneys. Back in '95, Alabama appealed in the Antonio Langham case and won back some scholarships and got a year cut off its probation.

Good result for Alabama back then, bad approach this time. Technically, Alabama is not off the hook yet. With the FBI looking into federal charges stemming from the recruitment of blue-chip lineman Albert Means, Yeager said the NCAA "reserves that option" to re-open the case.

The death-penalty clock is not just ticking, it's gonging. If there is another major violation within five years, Alabama football could be dead meat. Asked about that scenario Yeager, exasperated, said, "I don't know what's (penalties) left."

The school -- no, the state -- doesn't get the bold message that was sent Friday. This case has more in common with SMU than Alabama would care to admit. Back in 1987, a slush fund had been created to pay players. SMU football was shut down for a year. The damage was so complete that SMU didn't play the sport for an additional year.

Former enforcement chief David Berst fainted that day while announcing the penalties on campus. Berst, who was sick, recovered. SMU football still hasn't.

Friday, the NCAA laid out a portrait of overzealous boosters who paid players and recruits. That's only part of the sad story. Former Memphis high school coach Lynn Lang developed what the NCAA called a "scheme" to broker the services of Means for $115,000. An Alabama booster paid, according to the NCAA. Reports have stated it was flamboyant Memphis booster Logan Young, who denies involvement.

Talk to major-college coaches and you learn Means' services were offered to several schools. In the NCAA's eyes, only an Alabama booster paid. And it wasn't just one cigar-chomping high roller. The NCAA recommended a lifetime disassociation from Alabama of three boosters and at least a three-year ban of a fourth.

"These violations are some of the worst, most serious, long before 1987 included," Yeager said.

The infractions committee might have overstepped its authority in banning Alabama boosters from team charters, practices and football camps. But the booster thing is an issue neither schools nor the NCAA can get their arms around. They are college athletics' version of terrorists, acting sometimes alone with large amounts of cash. Rightly or wrongly, the NCAA sent the message that Alabama should have done more to control them.

"Despite the best efforts, there are still some people out there that just don't get the message," Yeager said. "Until the entire group decides to scorn those that want to place the university in jeopardy, there will be a lot of sleepless nights. Public scorn is a very effective tool."

Whatever small gains Alabama wins back, if any, in an appeal, will pale to what saved it on Friday. Yeager went out of his way to laud the efforts of faculty representative Gene Marsh and compliance officer Marie Robbins, who guided the program through the investigation.

"Their efforts not only saved the university from the death penalty but more serious penalties than those imposed," Yeager said.

Alabama might be known for football, but how ironic that the University of Bear Bryant was saved by a couple of administrative MVPs